Hexagon's smart Census Solution (HxGN) is a client-server platform, developed mainly for census purposes. Combined between conventional GIS functionality and workflow management tools and a large number of enumerators, HxGN's smart Census product provides a total solution for each stage of the census cycle from field data collection, interviews, etc. to pre- and post-survey change mapping.
The solution is built with more than 20-year experience of census, mastering and approaching methodologies in the traditional population and household census as well as midterm surveys.
Landscape of digital transformation, streamlining and liberalizing of census processes
In many countries around the world, collecting data for the census is a manual process. In most cases, field investigators receive a paper map to navigate to their survey site and then go to the field with the ballots to collect census information. This is a very tedious and complicated way to collect data, requiring the field investigators to have additional knowledge about the use of maps in the survey zone.
With the improvement and liberalization of technology, countries around the world can now benefit from the smart census solution. This solution provides powerful modules for implementing end-to-end investigation workflows from planning to statistics processing and public release.
HxGN smart census solution
The key to the success of this smart census solution is its ability to provide stakeholders with relevant, fast and accurate information. Decision makers are necessary to understand the characteristics of the investigations and citizens' needs from the beginning so that plans and policies are outlined. Adopting the smart census solution not only automates and improves the process but also helps easier access to the collected data.
New data is entered into the system where maps and charts with data filtering tools are updated with relevant analytics. With this solution, users like statisticians and policymakers can access real-time results from computers, tablets and smartphones so that decisions which can affect people's lives are made.
Census process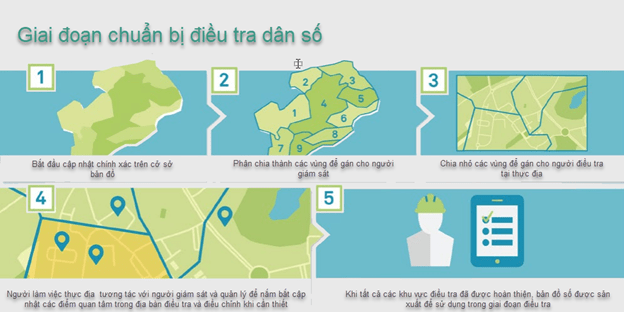 Benefits
Modular structure can be implemented for one, two or all three phases of the census.
Integrated approach to census planning – all groups involved in the different phases of the census are coordinated in a smart way;
GIS is used in a way that integrates and complements (not replaces) any existing GIS platform;
It is configurable to meet the exact needs/requirements of each specific census project;
It is a powerful and reliable platform;
Digital approach helps to improve efficiency, data quality and consistency while reducing costs;
Progress reporting is real time and automatic;
It is very intuitive for all users so no training is required;
Transparent assessment is based on objective criteria;
License allows unlimited users;
It can be reused for other surveys;
It lays the foundation for the national statistical office to deeply modernize its working methods.
---
"TRUETECH, with over 25 years of experience, is willing to cooperate and share experiences with agencies of the national statistics sector to apply HxGN's smart Census Solution and use the unique and transparent assessment model "
Back