Needs for document management in EPC projects
In terms of design management and control, co-operation between EPC contractors and sub-contractors during document/data management and hand-over is made difficult due to:
Hand-over of multi document versions resulting in unknown final version;
Ensuring commitment of design rules;
Control of delivery time in a highly competitive environment;
Flexibility in technical document search during design time;
Avoiding effects from complicated design changes;
Synchronization of multi management systems;
Response to technical query during the project execution;
Interface management to ensure collaboration among contractors in a common platform;
Non-conformity management during the project execution;
Management of Change in design;
Maintaining experiences and know-how even in human changes;
Ensuring hand-over of "digital twin", operating procedures and as-built documents to Owner/Operator. This will help O/O begin operation of the plant right after the hand-over, improving competitiveness of the EPC;
Providing inputs for maintenance and other operation software.
From the above views, the IT system for EPC contractors should be a common platform for the whole lifecycle of a plant, in which the core of the system should covers:
Common integration architecture: Features a common integration architecture for multiple engineering solutions point to point replacing complicated expensive point-to-point integration between applications.
Plant/project configuration: Models and audits the evolving plant configuration,
including all plant components (i.e., structure, tags, and assets) and associated characteristics, logical function, physical location, and inter-relationships.
An electronic library: Stores all plant information – tag/asset data and associated plant documentation – against the familiar plant structure, delivering relevant, timely, and accurate information to authorized personnel. The system tracks revisions and changes, assuring data accuracy and integrity.
Change management: Enables effective management of change by providing
an overview of engineering changes, tracking the details and status of each change and highlighting plant items subject to change.
The engineering portal: Using the latest Web technologies, the solution delivers a user-configurable view of engineering information via a single, consistent interface.
Streamlined work processes: Provides electronic definition of processes, enforcing mandatory procedures such as required approvals and signoffs, while remaining flexible for ad-hoc workflows.
Common platform for information exchange: Open architecture provides a common language for defining plant items so they can be correctly interpreted by multiple systems.
Information integration: Includes import/export capabilities to verify and exchange data among systems. Additionally, it supports collaboration between engineering and business management systems.
IT solutions for EPC projects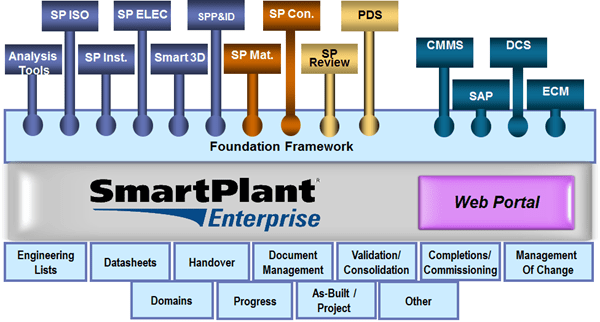 The IT solution of Hexagon (formerly Intergraph) is the most robust platform from the very beginning of an EPC project. The platform covers components from Engineering, Procurement to Construction, making an overall architecture as a Data Warehouse.
Engineering includes:

Engineering and Schematics: Isometrics, P&ID, Electrical, Instrumentation…

Modeling 3D and Visualization: Smart 3D, Review…

Analysis and Calculation: CAESAR II, PV Elite, TANK…

Procurement includes systems about materials and procurement based on MTOs generated from engineering;
Construction ensures conformity with engineering and procurement items, enabling data flow until this phase.
From these data sources, the core of the solution ensures functions and business processes available in technical data and documents. These functions include engineering document management, hand-over, data validation, change management, commissioning and as-built. Additionally, the system can work with different platforms from sub-contractors to ensure data synchronization.
Set-up of a common IT solution from the beginning of an EPC project can help the contractor control their work, avoiding loss of data and ensuring smooth later hand-over.
Back