Geographic Information System (GIS) is widely used in sectors like urban planning, land use management, resource & environment management, transportation, electric grids, water supply, national defense, flood control, public safety, etc. From data on map co-ordinates, GIS supports managers to assess the status of objects to make more precise decisions.
InforEAM is an Enterprise Asset Management (EAM) with the core of maintenance management (Computerized Maintenance Management System [CMMS]). The demand to use GIS for management for assets and equipment is originated from the distribution of these assets on a wide geographic area. This requires a central asset management based on GIS.
The GIS-based approach recognizes that GIS is the most robust software and database system to manage an inventory of geographically distributed assets. Other core systems such as: customer, maintenance management, modeling, and so forth, should be fully integrated and leverage the GIS in order for an infrastructure management organization/utility to achieve maximum efficiency in its operations.
Once integrated with GIS, Infor EAM users can work in this environment, including:
Searching from the map:
Searching by: Addresses, Equipment, Linear references, EAM values, GIS Values.
On map selection.
Overview
Zoom to Full Extent (Zoom In, Zoom out), Pan
Pointer
Previous Search
Select Features
Sketch
Measure
Identify Features
View Nearest Address
Display visible Layer
Displays a legend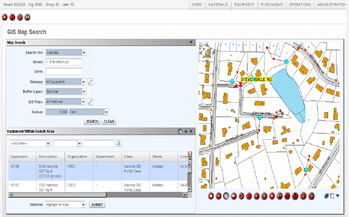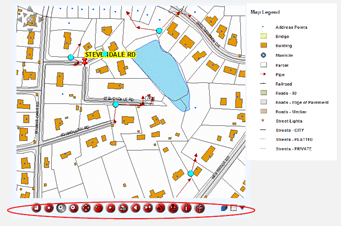 View Work Orders: From GIS Map Search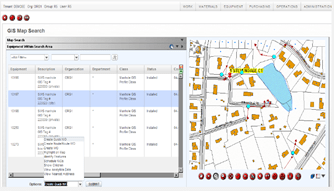 Viewing Infor EAM Events for the searching zone.
Access to the WO by double-click.
Create Work Orders: From GIS Map Search: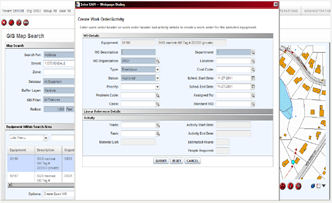 Direct access to WO
Quick WO creation (with automatic attachment of the map in PDF format)
Scheduling Work Order Activities: From GIS Map Search,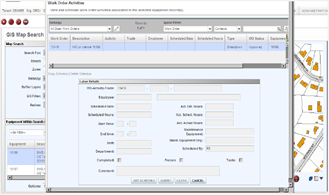 Định vị và lập lịch WO trên cùng một vùng địa lý.
Allocation and scheduling of WO forecasted in the same place.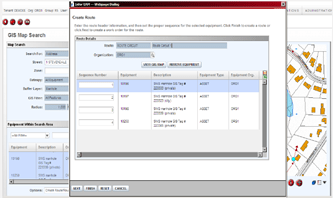 Locating and scheduling WO on the same geographic area.
Geographical Information: On equipment screen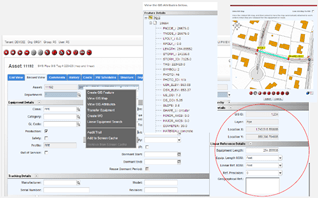 GIS Details.
Linear reference.
Viewing map from WO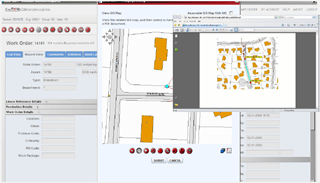 Viewing equipment.
Modification of start and end points, add lines and measures.
Attached the document to the WO in PDF format.
The solution when implemented will help managers to synchronize data on the same platform for work follow-up and work history in a certain area. Additionally, the solution also supports asset inventory by bilaterally filtering data to generate integrated reports.
Back