InforEAM is one of the most robust and powerful computerized maintenance management systems (CMMS). InforEAM – formerly named Datastream – has been available in the market since 1986 and characterized itself with an industry-vertical implementation approach. This approach is well-known with built-in functions and business processes for typical industries like Manufacturing, Oil & Gas (O&G), Power, Food & Beverage (F&B), Transport, Health Care, Fleet, Pharmaceutical, Facilities, etc. This allows much faster implementation of InforEAM as only additional configuration is required from the standard one.
InforEAM enables all maintenance types through its built-in functions as follows: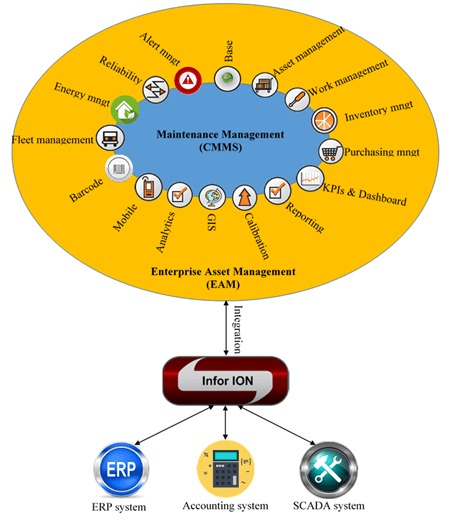 Resolving the maintenance types with InforEAM can be done by implementing the built-in functions as follows:
Preventive Maintenance:

Time-based maintenance (TBM):

Condition-based maintenance (CBM):

Online (Real-time or Near real-time maintenance):

Automatic receiving meter readings (Vibration, temperature, pressure, oil leakage., etc).

Offline (Predictive maintenance):

Manual key-in of meter readings (Vibration, temperature, pressure, oil leakage., etc).

Integration: Enabled via ION.
Together with the implementation of built-in and advanced functions, a CMMS (and more broadly EAM) system needs to be populated with customer-typical business processes and maintenance data. Truetech with its experiences resolves the problems by collecting different types of data which is appropriate with the processes. This includes, but not limited to:
P&ID drawings.

Master equipment list (MEL).

Customers' maintenance philosophies.

Vendor documents:

FMECA (Failure Mode Effect and Criticality Analysis).
Gradually, customers using InforEAM can build their own plant maintenance library, including:
The above codes and maintenance database will become a plant maintenance knowledge base of an enterprise.
Back