Because ERP is a business administration system, it stores many types of useful information for O&M (Operation & Maintenance) management. Therefore, plant operators have posed the need to exchange data of these two software to create a consistent and reliable information flow. InforEAM is a software specializing in equipment maintenance and repair, so it has long been designed with ability to integrate with enterprise business management software such as ERP, Customer Relationship Management (CRM), finance and accounting, etc.
Business Integration (using ION)
The shared business of both ERP and InforEAM systems will be handled in a common service environment. Infor's ION Integration Environment is an enterprise system for integrating different applications. Original data and transactions are transferred between systems in the form of Business Object Document [BOD] through ION. ION also allows users to set up workflows, designs and activates drivers/navigators to manage tasks and alerts between systems. ION includes the following components:
ION Desk: A browser-based user interface for users to communicate with other ION components. Users can use ION Desk to configure and manage ION services, configure service routes, and troubleshoot system failures.
ION Connect: A component that allows users to establish connections with other systems to create service flows that collect and send/receive data between systems. ION Connect navigates and sends service requests to other systems using user-defined data streams.
ION Workflow: A component that allows users to set up workflows to automate task navigation.
ION Event Management: A component that allows to manage the process of completing a task and alerting the user about the status of that task.
ION Activity Deck: A component that allows to manage task completion, alerts and notifications of the tasks.
Database Integration (using Data Link)
InforEAM is one of the most flexible maintenance management solutions in deployment as well as integration today. When integrated with ERP, the system allows integration according to different requirements and management conditions:
ERP extracts a temporary database from which InforEAM connects to conduct information exchange.
Set up a data bridge to connect the ERP database directly with the InforEAM database.
Integrated business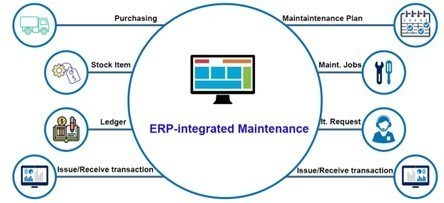 Typical services integrated between InforEAM and ERP include:
Procurement and delivery transactions in ERP.
Cost of procurement items in ERP.
Financial Transactions (General Ledger) in ERP.
Work Orders, Maintenance Plans, Materials and Services in InforEAM.
Material Issue for Work Orders in InforEAM.
Non-stock Material Request for Work Orders in InforEAM.
Purchase Requests and Human Request for Work Orders in InforEAM.
Warehouse transactions to calculate material issue/receive transactions.
Some typical business processes commonly used include:
Master data:

Attach, update, and remove inventory items.
Attach, update and remove vendors.
Information about companies, warehouse, industry, warehouse codes, units.
Create and update PRs.
Create POs.
Receive materials.
Receive and return materials.
Update inventory balancing and accounting.

Flow of in-stock materials (Stocked parts):

Create and update PRs.
Create POs.
Process invoices and financial updates.

Flow of out-stock materials (Non-Stock parts):

Create and update PRs.
Create POs.
Process invoices and financial updates.

Flow of outsourced services:

Create and update service requests.
Create Pos for services requested.
Process invoices and financial updates.
Back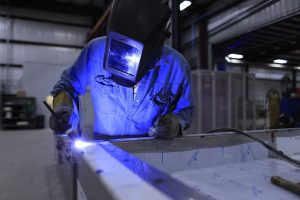 Asset management and equipment maintenance are today critical in the digital transformation of plant operation. Each industry as in Manufacturing, Oil & Gas, Energy, Food...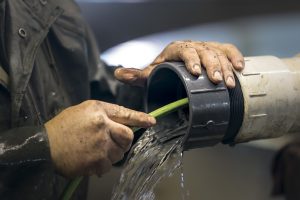 Time-based Maintenance (TBM) has been predominant for years in plant maintenance programs. With time progress and technological advances, Condition-based Maintenance (CBM)...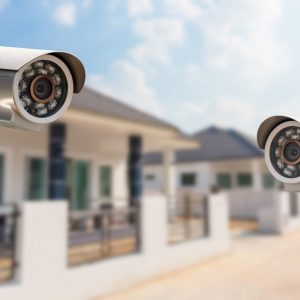 In 2018, TrueTech and VNPT implemented the project to build the security surveillance and monitoring center for Go Vap District