Typically, equipment is categorized as follows:
Static equipment: Is equipment that is stationary and does not move any substances but still helpful in many process operations. Typical static equipment includes Heat exchangers, Pipes, Tanks/Vessels, Separators, Scrubbers, Valves.
Rotating equipment: Is mechanical equipment that is used to move substances like gas, liquid or solid. Typical rotating equipment includes Pumps & Fans, Compressors, Turbines, Boilers, Gears, Engines, Shafts and rotors, Belt drives.
Typical EIT (Electrical, Instrumentation and Telecommunication) equipment includes Safety and Automation system (SAS), Fire and Gas detection, Transformer, Circuit breakers, Heaters and Coolers, Uninterrupted power supply (UPS), Telecommunication surveillance and monitoring system (TSM), Switchboards, Electrical motors.
Popularly, all the above equipment types are under time-based maintenance strategy. It can help plant operators to prevent unexpected breakdown, reducing downtime, based on equipment manufacturers' manuals or maintenance guidelines. With technological advances, CBM can do more.
Real-time CBM with InforEAM
The SCADA system offers real-time information on equipment operation to provide CBM alerts to InforEAM. These alerts can drive proactive maintenance initiatives, reducing maintenance manpower and the maintenance spend. By being able to view the degradation of equipment between scheduled maintenance intervals, planners can schedule the right maintenance at the right time, and operations would be able to work with maintenance. Early detection of machine problems using Condition monitoring, helps in scheduling intervention which significantly reduces standstill costs, as there were no unexpected surprises:
Reduce the number of failures and unscheduled downtime repair events.
Favorably impact overall operation and maintenance costs.
Promote efficient use of labor resource.
Improve equipment reliability and availability.
Increase production and reduce cost.
Integrating with SCADA also helps the maintenance management process by automatically triggering maintenance work orders and requests based on machine conditions. Maintenance becomes more predictive by giving maintenance managers the ability to configure rules for creating very detailed work orders that are triggered automatically. The rules can be based on any set of machine conditions and parameters that fall out of specifications or reach particular levels. Following equipment and signals are common: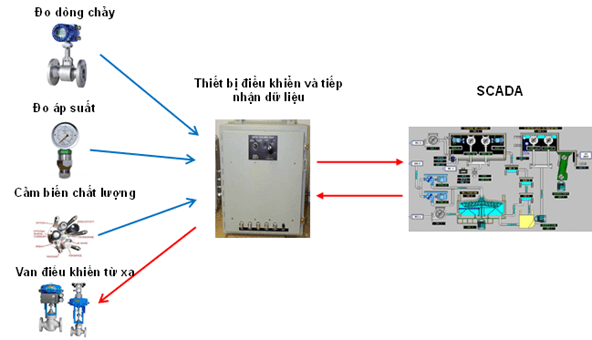 Once capturing the conditions which falls out of thresholds defined in InforEAM from the above signals, work orders will be generated in a pre-defined workflow. The workflow of InforEAM is made up of four main components as follows:
Equipment Model – Models site/equipment and linkage of SCADA values:

Model of site and equipment.

Stores real-time SCADA values for evaluation.

Events – Conditional expressions or time-based events that trigger workflows:

Conditional Expression – Uses values stored in Equipment to evaluate expressions.

Time Based Expression – Uses date/time expression to determine when event should be triggered.

Events can be triggered based on multiple criteria.

Events can be set so one or all criteria must be met.

Expressions can also evaluate criteria stored in the workflow process such as a process already running.

Workflow Templates – Configured Templates that contain automated process and/or manual steps:

Configured steps and processes that are executed automatically and/or with user interaction.

Steps can be modified by workflow authors and services can be added by administrator.

Schedules – Combines events with workflow templates to initiate workflows:

Combines workflow template with events, either condition or time based to determine if a workflow should be generated.
Near real-time CBM with InforEAM
Different from Real-time CBM, this scenario does not allow InforEAM to directly integrate with SCADA. All information is exchanged via some type of intermediate structured flat files.
Infor EAM is integrated with SCADA by accessing the raw data of SCADA through http request from browser or from internet (RESTful web-API). This is shown as follows: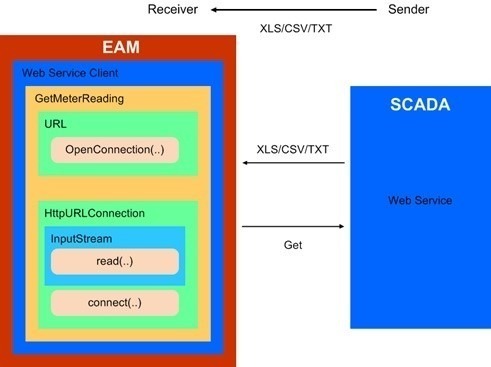 The rest is activated as described in the real-time CBM business processes.
Quay lại