BIM Overview
BIM (Building Information Modeling) is understood as a digital model of building information management. This management model is not new and was born a long time ago (approximately more than 40 years). In the past 7-8 years, BIM model has been studied and introduced by construction and infrastructure design consultants and engineers for projects in Vietnam. With the advantages, consistency and high synchronization of the model that BIM brings, the Prime Minister in 2017 issued a decision to apply BIM model for a number of experimental state-funded projects.
Application
The applicability of BIM management model is very broad, covering the entire life cycle of the project from the project survey, basic design, detailed design, fabrication, construction, installation, commissioning, as-built to operation, maintenance and dismantle.
BIM structure
The core, also known as the brain of BIM, is the Common Data Environment (CDE). This is the center of data collection, storage, processing and exchange for the entire project. All participants in the BIM model will interact through this center.
In the world today, there are two popular standards applied to BIM namely UK Standard (PS 1192) and International Standard (IS) 19650). Based on the criteria specified in the standard, the CDE is built according to:
CDE - Investor;
CDE – EPC contractor and fabricator;
CDE - Design consultant;
CDE – Plant operator.
BIM participants
Owners of plant, infrastructure...
Plant operator;
Design consultant and project planner;
EPC contractor and sun contractor, fabricator and constructor.
What are the benefits of BIM?
Modeling is visualized for project participants to understand for better discussion, work assignment or selection of effective design/construction. On that basis, stakeholders can better understand the design solution to make appropriate decisions, thereby reducing the costs incurred by the project;
Sharing of digital data is made more convenient in work co-ordination. saving time in document preparation and information exchange;
Conflicts in departments and clashes in designs or between forecasted designs and constructed plants can be detected and controlled, helping less changes, modifications or additions during project execution;
Contractor selection is improved, reducing risks in bidding thanks to better quality bidding documents;
Construction volume and progress are controlled by connecting the model with real progress and controlling costs from the BOMs of the model;
Information related to equipment, machinery, piping, structure, etc., is gathered for later plant maintenance and operation.
Software solution
Software solution depends on the type and size of the project.
For complex and large-scale projects such as refineries, oil and gas, chemicals, mining, food & beverage, shipbuilding, the most suitable BIM model today includes:

Platform and Database (CDE): Hexagon SmartBuild;

Design management applications: Smart 3D, Tekla, Aveva Bocad, Autodesk Revit;

Construction & erection management application: Smart Construction;

Project cost management application: Hexagon Ecosys; Oracle Primavera;

Project document management application: Smart Foundation or Oracle Aconex;

Plant operation management application: Hexagon Infor EAM; Geomedia.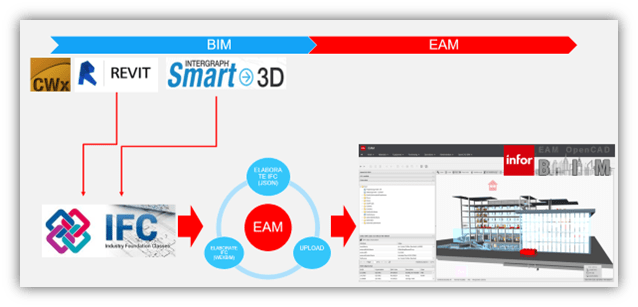 For simple projects such as buildings, infrastructure, utilities, small-scale plants, etc., the suitable BIM model includes:

Platform and Database (CDE): BricsCAD, Autodesk, Bentley;

Design management applications: Autodesk, Cadworx, BricsCAD;

Construction and erection management applications: Autodesk, Trimble;

Project planning and progress management applications: Oracle Primavera;

Project document management applications: Oracle Aconex, Autodesk, Bentley;

Plant operation management application: Hexagon Infor EAM; Geomedia.
Selection and application of the appropriate BIM solution to management activities is one of the important prerequisites for the gradual transformation of data, processes as well as operational models into digital form. From these digital databases, advanced features like analytics, reporting or mobility can be applied.
Quay lại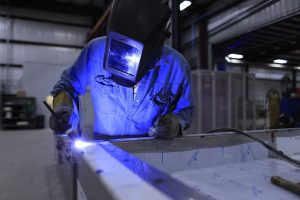 Asset management and equipment maintenance are today critical in the digital transformation of plant operation. Each industry as in Manufacturing, Oil & Gas, Energy, Food...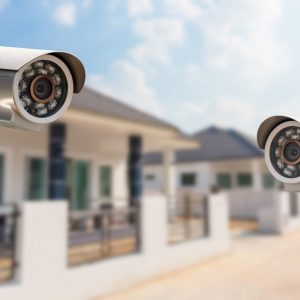 In 2018, TrueTech and VNPT implemented the project to build the security surveillance and monitoring center for Go Vap District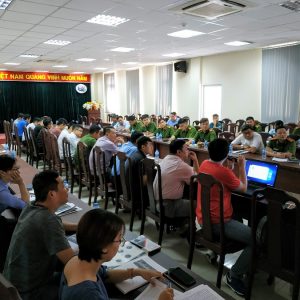 In order to ensure the operation, management and operation of the information system, command and monitor security cameras in the ward and Go Vap district. The Go Vap District...